It's a scary, political world out there y'all.
There's so many things to be openly passionate about these days. So now that protesting is the new brunch, we're expected to show our support by collectively gathering amongst like-minded millions in effort to make an impact for whichever cause we feel is strongest to our soul.
I happen choose Climate Change awareness over a lot of things.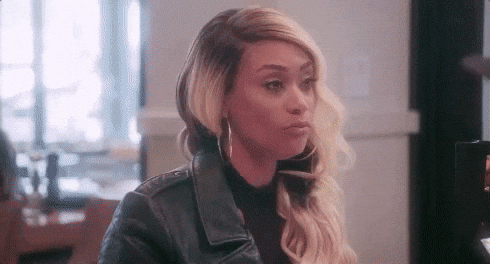 *courtesy of Giphy
Let me explain myself, and others, by expressing two things:
Trying to save our environment instead of being a radical rally-er does NOT make me a bad feminist.
I support those who wake up at 5 a.m. to gather at government buildings dressed as Handmaidens, or those who fight for me at capitol grounds. I also happen to care a lot about nature, and if that makes me a "bad feminist", perhaps you should think of where you stand of the scale of true feminism: the essence of being supportive and inclusive of ALL women, no matter how many marches you don't attend. It's about supporting and uplifting our sisters. In fact, I believe it makes the assumer of the aforementioned label.

---

Let's face it: we as a waste-driven society are ruining things. Like, all the things, including the ozone layer that protects us, trees that make our oxygen, oceans and rivers that provide our fish, plants that provide our food, the list goes on. If we live in a world where there is a total lack of natural resources, there won't be any feminist rallies. And guess what? We're eerily close to that point. Yet, we have many other big issues happening in the world. One being inequality of Women and their rights, which I can also get pretty heated about. This is where multitasking passions has to be prioritized for me. My priority happens to be helping spread awareness on saving the environment before I can soundly flick off the male patriarchy on social media. This isn't to say you have to pick ONE thing to give a shit about, because we need to give lots of shits. But for me, I've been called a bad feminist for this assumption.
*photo by Harry Knight
I'll apologize if this comes off a bit defensive. For months, I've felt a true sense of shame for missing the biggest Women's March in herstory (ironically, due to menstrual cramps),  and today happens to be the 6 month anniversary of said march. I genuinely wish I could've happily been there. I followed along via live stories, videos, posts, and hashtags doing everything in my power to send positive energy out to the ladies who kicked-ass showing their physical support as I lay in bed feeling like a miserable, guilty, weak potato of a person.
*photo by Roya Ann Miller
I ask of you not to forget to show the true meaning of feminism to those you love, and even for those you maybe don't so much love. This is the real meaning it of it anyway, yes? Showing equal support for your fellow women who are just as passionate as you, but in different ways? We're all in it together, we all want the world to be at it's best.
Like I said, there's plenty of movements that need immediate addressing, and luckily there are a lot of people out there who care about each and every topic. Being consciously aware of these movements is what's going to change up the status quo, which is a big reason of why marches exist in the first place. My passion of choice is doing what I can to help conserve our Earth, because with out it, there won't be any females, fertility or feminism left.
Over and out, xo