Whether it be an distant friend, family, a neighbor or an enemy, I get asked "How my job is going"…a lot. 
Truth is I'm a freelance artist, so:
a) It's going great! I love designing things and making people happy.
b) It's a f*#king jungle please hug me.
Much like the comedy world (and trust me, nobody's laughing here) graphic designers must fight to the death to get a nice paying gig from trusted freelance websites (and within them: loyal, trustworthy clients) such as:
All great outlets if you're looking to work full-time as a designer, but I must warn you: the market is super competitive. 9 times out of 10 my business is made through friends, word of mouth and networking events.
Photo by Pixabay
What It's All About
Identity & branding
I kinda love when people don't really know what they want. Or, they have a slight idea of something they want, but they don't know if it's visually possible and we go from there. It leaves the artist some breathing room for creative concepting. What complicates things is when the client has a 100% detailed vision and doesn't really listen or let go of their (bad) ideas. Slightly admirable, but frustrating, because we're taught in art school that "the client's always right" – in most cases, you are! You know your brand better than anyone, but we as designers are here to help you with what you might not yet know.
That being:
A Great Logo
Photo by Unsplash
Your logo is the first thing people notice about you and you want it to set the right mood and create the right initial impression and so, personality is everything. It should tell a story. Your brand may appear on a few platforms from print to digital, large or small, so keeping these points in mind from the beginning is important. Style, layout and colors will need to flow throughout your identity so you'll need to think beyond just a logo.  Most of the time, the client doesn't know right-off-the-bat what concepts can come from just the name of the company.
Here are some great minimal logo examples that show the designer took time to concept it out:
Like I said, if you let the right designer do their job, chances are you can totally end up with something cool like the above.
Typography
photo by Pinterest
Typography is that nice dress that you wear to your dream job interview. You probably won't get hired based on how nice of clothes you wore, but wearing a smelly frumpy shirt with food stains definitely makes a bad first impression and reduces your chances of landing the job. The same goes with typography.
You loved that this was all in an easy to read, nicely laid out typographical graphic, didn't you ; ) Typography is important. Moving on.
Style & Tone
A well-developed style is an essential tool for establishing brand identity. A brand's style guide (also known as a brand book or brand guide) acts as a key document that helps content creators communicate a consistent message to your audience, so it's a great asset for creating consistent, on-brand content.
Your brand's style communicates your company's design standards to your whole group. Having this will make the lives of your designers, writers, and developers much easier and give them a solid framework to use as a starting point for their work.
Style guides can support marketing initiatives by ensuring that all photography and messaging is relevant to your brand's goals. This is important because it helps establish a strong brand voice that resonates with the audience, which is essential for building brand awareness. Over time, that awareness and consistency builds trust.
Color Theory
Who's your target market? What do you want your audience to feel? What are you selling? All of these questions are essential to choosing brand colors – not just basing it off of your favorite color schemes. (The customer comes first, remember?)
Here's a nice chart explaining the moods and mellows of color:
How to Make Shit Happen
Your colors are selected, you logo is bangin', you had a photoshoot and you finally have your very own business card. Now what?
A LOT, IS WHAT. This is where the real magic happens! Once you have a solid identity, it's time to expand your brand. I'm talkin' website re-design, packaging, wallpaper, murals, bus ads, shirts, pens, stationary, mugs, magnets, stickers, billbaords, folders, service menus, car wraps, Facebook ads, Instagram Ads, Twitter headers, social media posts, ribbons, employee welcome boxes, printed banners, tote bags, koozies; I can go on forever. Just know that the world is full of endless design opportunities for you and your brand if you have the right designer.
Don't ever stop skipping along the golden paths of design.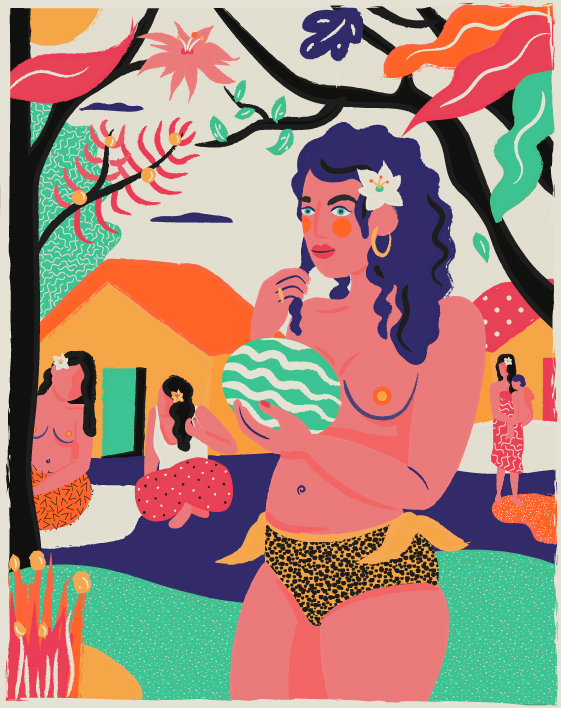 Art by Mathilde Valero
People They Make You Know in Design School That You Should Know Too
Ah, the classics. Of course nowadays there are hundreds of inspiring designers out there, especially now that we have the internet and social media, but these guys are the OG's.
Know them, their name, their work, and their influence. Trust me. It'll make you a more complete designer (or a really impressive client) and you'll be able to hold up your own in a conversation about the field.
1. Otl Aicher
Good art inspires; Good design motivates.
Nationality: German
Studied at: Academy of Fine Arts Munich
Era active: 1940s through 1980s
Specialties: Identity, typography
Known for: Lufthansa branding, 1972 Munich Olympics, Ulm School of Design
Find out more:otlaicher.com
2. Michael Beirut
Only good work leads to doing more good work.
Nationality: American
Studied at: University of Cincinnati's College of Design, Architecture, Art and Planning
Era active: 1980s through present
Specialties: Identity and print work, design writing and criticism
Known for: Redesign of The Atlantic, graphics for the New York Times building
Find out more: Pentagram.com
3. Neville Brody
Design is more than just a few tricks to the eye. It's a few tricks to the brain.
Nationality: British
Studied at: London College of Printing
Era active: 1970s through present
Specialties: Typography, art direction
Known for: The Face Magazine, Arena Magazine, record cover art
Find out more: Interview with Eye Magazine
4. David Carson
Graphic design will save the world right after rock and roll does.
Nationality: American
Studied at: Oregon College of Commercial Art
Era active: 1980s through present
Specialties: Magazine design, art direction
Known for: Ray Gun Magazine
Find out more: davidcarsondesign.com
5. Alan Fletcher
I like to reduce everything to its absolute essence because that is a way to avoid getting trapped in a style.
Nationality: British
Studied at: Hammersmith School of Art, Central School of Art, Royal College of Art, Yale School of Architecture
Era active: 1960s – 1990s
Specialties: Identity design, book design
Known for: Founding Partner of Pentagram, The Art of Looking Sideways
Find out more: alanfletcherarchive.com
6. Chip Kidd
Never fall in love with an idea. They're whores: if the one you're with isn't doing the job, there's always, always, always another.
Nationality: American
Studied at: Pennsylvania State University
Era active: 1980s through present
Specialties: Book cover design
Known for: So many awesome book covers and his work with graphic novels
Find out more: chipkidd.com
7. Armin Hofmann
There should be no separation between spontaneous work with an emotional tone and work directed by the intellect. Both are supplementary to each other and must be regarded as intimately connected. Discipline and freedom are thus to be seen as elements of equal weight, each partaking of the other.
Nationality: Swiss
Studied at: Apprenticed in lithography
Era active: 1940s through 1980s
Specialties: Poster design
Known for: His teachings as head of Schule für Gestaltung Basel, poster for Giselle
Find out more: Thinking form: Armin Hofmann
8. Herb Lubalin
"You can do a good ad without good typography, but you can't do a great ad without good typography."
Nationality: American
Studied at: Cooper Union
Era active: 1940s through 1980s
Specialties: Typography, art direction
Known for: ITC Avant Garde font, work on Eros and Avant Gardemagazines
Find out more: The Herb Lubalin Study Center of Design and Typography
9. Stefan Sagmeister
It is very important to embrace failure and to do a lot of stuff — as much stuff as possible — with as little fear as possible. It's much, much better to wind up with a lot of crap having tried it than to overthink in the beginning and not do it.
Nationality: Austrian
Studied at: University of Applied Arts Vienna, Pratt Institute
Era active: 1990s through present
Specialties: Album covers, typography (he literally carved type into HIS SKIN) 
Known for: Lou Reed Poster, book Things I have learned in my life so far
Find out more: sagmeisterwalsh.com (a designer's DREAM JOB)
10. Paula Scher
You never can do what the kids do. What you do is look at yourself and find your own way to address the fact that the times have changed and that you have to pay attention. You can't be a designer and say, 'Oh, this is timeless.' Nothing is timeless!
Nationality: American
Studied at: Tyler School of Art
Era active: 1970s through present
Specialties: Branding and identity, album covers, illustration
Known for: Her poster work, and being the first female principal at Pentagram
Find out more: paulascher.com
Why be a Designer?
You love art but your mom says "it won't pay the bills".
You have a burning passion to make garbage looking things look better.
You point out crappy logos all the time in public.
Computers are your jam.
You like to draw or have nice handwriting.
You like conceptual things.
Most of all, you care about making people happy and influencing positive change in the world with your art.
Sincerely, 
A Freelance Graphic Designer